...thank you for the excellent service...
I wanted to thank you for the excellent service that was provided today. Not only was the bus the perfect size and had air conditioning, but the driver was awesome. He was here early and was a very friendly gentleman.
Breann Gray-Mitchell
Walker Industries
Thank you again for helping out with my last minute booking. They had a fantastic weekend!!!
Leanne DeCarolis
Concierge / Guest Services Agent – Queens Landing
All of the details were timely and flawless.
I apologize for the delay in writing but I wanted to thank you for all your help and all the efforts you put into our wedding this past weekend!
Every detail was magical, and I appreciate the special part you contributed to our day!
All of the transportation details were timely and flawless. Chris and I loved our drivers, the were absolutely amazing! They were professional, friendly, and enthusiastic….always ready and willing to go above and beyond to make sure our guests were taken care of.
I am so happy that I managed to find your company. There are so many details to coordinate with a wedding, that it was wonderful to relax knowing that the transportation was one thing I didn't have to concern myself with because I was in good hands.
Thank you also for being so prompt in your correspondence with me and for helping with the planning of our wedding.
I hope we have the opportunity to work with you again in the future.
Nicole Lynn Cardillo
Executive Director, Public Relations - Shiseido Cosmetics America
I'm writing to thank you for helping me to plan a memorable engagement on the 18th. Rick was a fantastic tour guide and the car was great. Everything went smoothly.
Jerome
...especially helpful and supportive.
I recently booked wedding day transportation with Community
Transport Group (Reservation #: 44108 WED). I am writing this email to personally let you know about the terrific support and outstanding patience showed during the booking process.
From the beginning, your staff was especially helpful and supportive. She went out of her way to try and find a white SUV limo for us. She also followed up with you to confirm the Classic car that we wanted. She was also able to secure a discount on the trailer fee for the Classic car. Most importantly, she was very patient with us, as my fiancé and I went through several versions of the contract before we finally confirmed the booking on May 23. It was certainly a stressful experience for us.
While I'm sure dealing with our emails and phone calls would have been frustrating for anyone else, Your staff maintained a professional and helpful attitude throughout the whole experience. We look forward to receiving excellent service on our wedding day.
Eli Bamfo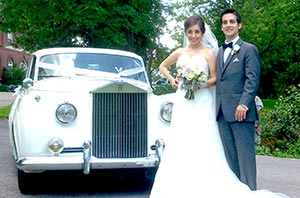 We were very pleased with the service you provided on the day of our wedding!
Jilda and Joseph Lentini
...professional, knowledgeable, courteous...
Thank you for your choice of wineries and restaurant. Fantastic tour, great restaurant with fabulous food and a awesome driver for the tour. He is professional, knowledgeable, courteous and fun to be around.
He gave us your business card with his name at the back. We will refer him to our friends for some more
wine tours.
Rémi & Michel
I've been meaning to leave you a message…
Just wanted to thank our driver for our 44785 TOUR we had an amazing day.  The driver was extremely friendly and knowledgable in the wine making industry as well as the NOTL history.
The London cab was so cool and we will recommend this opportunity to everyone who vacation in your area.
Thanks again!!!
Isabelle & Joe